Investing in cryptocurrency isn't just about buying and selling the currencies themselves anymore.
One of the more exciting alternatives is Bitcoin options trading. It provides more flexibility and a wider range of strategies than simply trading on a crypto exchange.
At the same time, trading Bitcoin options is not as simple and straightforward as simply buying Bitcoin on an exchange. It harbors a few twists even for those experienced at conventional options trading.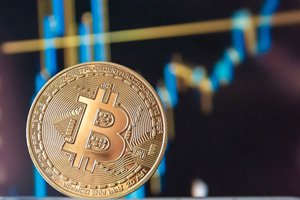 It's also relatively new, which carries additional risks.
The one U.S.-based Bitcoin options trading platform, LedgerX, has only been available for retail investors since July.
"It's definitely a platform to look into if you want to do options on BTC, but from what I've heard, the volume is pretty light and spreads are wide," warned Money Morning's options trading specialist, Tom Gentile. "Typical of any product coming down the pipeline, financial or otherwise."
In addition, high Bitcoin prices relative to stocks means Bitcoin options contracts tend to be priced much higher than what you may be used to seeing in stock options chains.
With stocks, you can often buy an options contract for less than $1. With Bitcoin options, it's possible to see prices near $1, or at least under $10. But the majority of Bitcoin options contracts sell for hundreds of dollars and some for thousands of dollars.
Revealed: Just when you thought he couldn't do better… America's No.1 Pattern Trader reveals his biggest options trading breakthrough yet. See it for yourself.
Traders must take all of these factors into consideration. And frankly, if you're not already familiar with options trading, Bitcoin options may be too risky for you.
But for those who understand the risks and are comfortable with sophisticated trading strategies, Bitcoin options can be a powerful tool.
To help you get started, we've put together this guide to Bitcoin options trading to answer your questions.
We'll start with the basics…
What Are Options?
Options are a way to bet on a price move up or down by an investment without buying the investment itself. When you buy an option contract, you pay a "premium" for the right to buy or sell that investment at a certain price by a certain date.
Options come in two flavors: calls and puts. If you expect the price of an investment to rise, you buy a call option. It gives you the right to buy a certain amount of that investment at a set price (the "strike price") before the expiration date. The higher the price goes, the more your call option is worth.
If you think the price of an investment will decline, you buy a put option. It works just like a call, except that you get the right to sell the investment at the strike price before the expiration date.
Expiration dates can range from one week to several months to over a year into the future.
How Do Options Work?
For a call, if the underlying investment is trading higher than the strike price, it is said to be "in the money." You have the right to buy the asset at the lower strike price. You can then turn around and sell that investment at the higher market price – and pocket the difference. If the price drops below the strike price by the expiration date, it will be worthless. But your loss is limited to the premium you paid.
With a put, the price needs to be below the strike price to be "in the money." You have the right to sell the asset at the higher strike price. To exercise it, you'd first need to buy the asset at the market price. Then you turn around and sell them at the higher strike price to collect your profit.
In addition, the values of an options contract rise and fall as the price of the underlying asset changes. If your options contract is "in the money," and so worth more than you paid, you can simply sell it to collect your profit. With options, you never have to buy or sell the underlying asset.
You can also sell options contracts in addition to buying them. The contract seller collects the premium paid up front but is exposed to unlimited losses if the trade goes against them. The buyer's maximum risk is the premium paid.
Where Can I Trade Bitcoin Options?
You won't find Bitcoin options on the crypto exchanges. As derivatives, they present different challenges to operators and so have their own exchanges.
Right now, the three main Bitcoin options trading platforms are Quedex, based in Gibraltar; Derebit, based in Amsterdam; and LedgerX, based in New York.
Quedex is regulated by the Gibraltar Financial Services Commission. Derebit presently operates as an unregulated broker pending clarity from European Union regulators.
U.S. investors should stick with LedgerX, which is based in the United States and operates under the regulatory authority of the Commodity Futures Trading Commission (CFTC).
LedgerX was founded in 2014 by two former Goldman Sachs employees, Paul and Juthica Chou. Paul was a securities trader; Juthica traded derivatives. It started offering Bitcoin options to retail investors in July.
Do Bitcoin Options Differ from Other Options?
Yes. For one thing, they are "European-style" options, which means they can only be exercised on the expiration date. Typically, options in the United States can be exercised at any point up to the expiration date. However, you can still buy or sell the contract itself prior to the expiration date.
In addition, stock-based options contracts are based on lots of 100. So one option contract gives you the right to buy or sell 100 shares of the underlying stock.
But the LedgerX Bitcoin options contract size is one Bitcoin. Even so, the high price of Bitcoin makes the cost of Bitcoin options much higher than what you typically see in options contracts based on stocks.
Options contracts on very large price moves can rise into the tens of thousands of dollars.
How Do I Set Up an Account?
It's not too difficult to set up an account at LedgerX. If you go to the Omni part of the site just click the "open an account" link to begin the process.
The form on the web page asks for your basic contact info as well as a photo or scanned image of an identifying document such as a U.S. passport or driver's license. You also need to answer several background questions.
After that you can fund your account with U.S. dollars, Bitcoin, or both. To deposit USD, you need to do a wire transfer from your bank. To buy a call or put option, or to sell a put, you need to have the proper amount of USD in your account. To sell a call you need to have BTC.
How Do You Trade Bitcoin Options on LedgerX?
To trade Bitcoin options on LedgerX, you must be able to collateralize the trade. So to buy or sell put options, or to buy a call option, you need to deposit U.S. dollars. To sell a call option, you need to deposit Bitcoin.
LedgerX, to its credit, allows a full spectrum of Bitcoin options trading. You can both buy and sell puts and calls. The interface is fairly straightforward. On the main Omni trading screen, you can see any balances you have in your account at the top of the screen.
In a window below that information, you'll see the current options contracts available organized by expiration date, most recent first. Clicking on a price brings up a window in which you can enter the number of contracts you'd like to buy or sell and how much it will cost you.
Then you can enter the quantity of contracts (the total price is calculated for you automatically), and if you're happy with what you see, submit the order.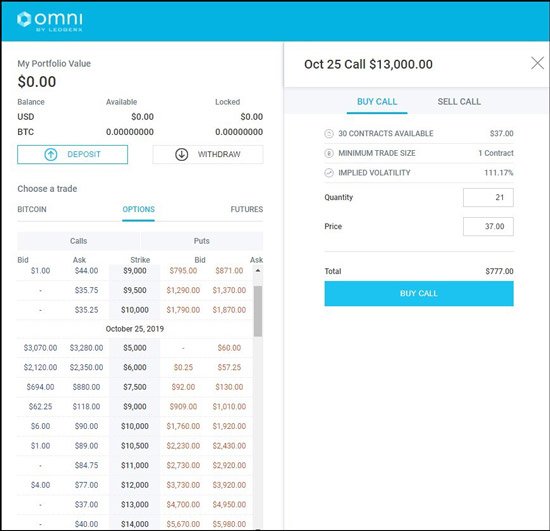 Clicking on the word "Bitcoin" at the top of the main trading window switches out the list of options trades for a window in which you can buy or sell Bitcoin. But you can only buy or sell in increments of a full bitcoin.
How Is My Bitcoin Options Trade Settled? What Happens?
As noted before, LedgerX Bitcoin options are European style, so they can only be exercised on the settlement date. The options expire at 4 pm. EST and are settled at 5 p.m. Also, they're physically settled, which means if you bought a call or put option, the party who sold it will provide the specified amount of bitcoin for you to buy or sell at the strike price.
How Much Are the Fees?
At LedgerX, trading fees for retail customers is 25% of the options contract price or $12.50, whichever is less. There are no fees for maintaining an account. Withdrawal of Bitcoin costs 0.005 BTC, but there are no deposit fees.
How Are Profits from Bitcoin Options Taxed?
While the IRS tax rules cryptocurrencies have been somewhat murky, LedgerX has made a move that both clarifies the rules for Bitcoin options while increasing tax efficiency for its retail customers.
In June, LedgerX received a license from the CFTC to be a designated contract market. This license permits LedgerX to rebrand its contracts as futures and options on futures. And that matters because the IRS treats futures differently – it designates futures as 1256 Contracts.
This special tax treatment means any gain or loss is treated as a mixture of a 60% long-term gain and a 40% short-term gain. The result is a much more favorable tax treatment compared to regular options.
All that said, taxation of investments can vary depending on an individual's circumstances. It's vital that you consult a tax professional before trading Bitcoin options to make sure you understand all the tax implications.
Why Trade Bitcoin Options?
Big investors use options to manage risk on large positions they may hold on a particular stock. Options allow you to "hedge" against a move of the market in the opposite direction of your investment. Because their livelihood is tied to the Bitcoin price, Bitcoin miners use options to hedge their risk.
Retail investors can use options to hedge risk as well – that's the main purpose of options – but can also use them for speculation. If you think the price of Bitcoin is going to move in a particular direction, options can maximize your profits.
But keep in mind that most options contracts expire worthless. It's a strategy to use with caution.
You Can Learn How to Trade Options Like the Pros – for Just $1
Because Bitcoin options are so new, the best strategies for how to profit from them may take years to work out.
But that's not the case with stock-based options. America's No. 1 Pattern Trader Tom Gentile has developed dozens of trading secrets and ideas – and his best ones are included in his seven-day Cash Course.
Tom covers all the essential trading ideas you need to know to potentially make thousands in extra income every week and to potentially start collecting anywhere from $1,190, $1,313, and even up to $2,830 in consistent income – each and every week.
People have paid up to $30,000 to access Tom's secrets… but it can all be yours for only $1.
Follow me on Twitter @DavidGZeiler and Money Morning on Twitter @moneymorning, Facebook, or LinkedIn
About Money Morning: Money Morning gives you access to a team of ten market experts with more than 250 years of combined investing experience – for free. Our experts – who have appeared on FOXBusiness, CNBC, NPR, and BloombergTV – deliver daily investing tips and stock picks, provide analysis with actions to take, and answer your biggest market questions. Our goal is to help our millions of e-newsletter subscribers and Moneymorning.com visitors become smarter, more confident investors.To get full access to all Money Morning content, click here.
Disclaimer: © 2019 Money Morning and Money Map Press. All Rights Reserved. Protected by copyright of the United States and international treaties. Any reproduction, copying, or redistribution (electronic or otherwise, including the world wide web), of content from this webpage, in whole or in part, is strictly prohibited without the express written permission of Money Morning. 16 W. Madison St. Baltimore, MD, 21201.