The IOTA price could more than quadruple by the end of the year, as this nascent cryptocurrency advances its ambitious technology. But that's just the start of this cryptocurrency's potential.
IOTA (MIOTA) is one of the top cryptocurrencies – currently No. 13 on the CoinMarketCap.com list – I recently recommended to Money Morning readers.
Don't Miss: Why Cardano Coin Is Cryptocurrency's Sleeping Giant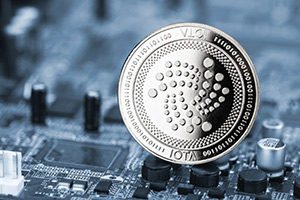 What sets the IOTA cryptocurrency apart is its focus on becoming the backbone of the Internet of Things (IoT) – a tech idea that envisions the networking of physical devices ranging from autos, to wearable tech, to refrigerators.
The IOTA system is intended to serve as a trusted conduit through which IoT data will flow, connecting devices through its encrypted network.
If IOTA succeeds in fulfilling this function – and at the moment, it's the clear front runner – the IOTA price will see tremendous gains.
At least one IOTA price prediction puts the cryptocurrency at $5 by the end of 2018 – more than a 300% gain from today's price. But as we'll see, that prediction could be too conservative. Becoming the foundation of the IoT would result in exponentially higher price increases over the next few years.
Here's what makes IOTA one of the most compelling cryptocurrencies on the market…
Why IOTA Is Not Just Another Cryptocurrency
With over 1,500 cryptocurrencies in existence, only those that truly stand out will survive, much less enjoy large price gains.
The No.1 Crypto Tom's Buying Right Now: Tom Gentile is predicting a massive price surge for a little-known cryptocurrency trading under $0.30. Click here to see his pick and exactly how to trade it.
IOTA, a third-generation cryptocurrency, definitely fits the bill.
One of the hallmarks of a strong cryptocurrency is a strong team behind it. IOTA's group is knowledgeable, experienced, and diverse.
Founded by David Sonstebo, Dominik Schiener, Sergey Ivancheglo, and Sergeui Popov in 2015, the IOTA Foundation is based in Germany. It employs about 50 people, including more than 20 developers and about a dozen researchers.
And they wrote IOTA's code from the ground up. That alone distinguishes IOTA from most crypto teams, who typically copy code from other coins and tweak it.
But the key here is that IOTA's architecture was designed from the outset to function as the heart of the IoT. To do that, the IOTA cryptocurrency needed to have zero transaction fees, impenetrable security, and unlimited scalability.
Most of this is accomplished through IOTA's unusual data structure. It's called the Tangle…
The Tangle Is What Sets IOTA Apart
The Tangle serves the same purpose as Bitcoin's blockchain. It confirms and verifies the transactions on the network.
But the Tangle isn't a blockchain at all, in that it doesn't build sequentially on previous blocks of transaction data.
Instead of miners confirming transactions as with Bitcoin, every IOTA user contributes to the maintenance of the network. Each time a user makes a transaction, their software must choose two other transactions at random to check and verify.
This results in an ever-expanding web of connections that continues to add confirmations to a transaction as time goes on. (The technical term for this is "directed acyclic graph.")

The Tangle structure brings several advantages. The Tangle is why IOTA has no transaction fees (no miners to pay). It also makes it harder to create the number of transactions required to launch a spam attack.
But the biggest advantage of the Tangle is its scalability. The structure means that, as the number of transactions increase, so does network capacity. There can be no backlog of unconfirmed transactions because of limited size data blocks – the issue that sparked the Bitcoin Cash hard fork last August.
Editor's Note: Stay on top of the rapidly moving world of cryptocurrencies. To get real-time alerts sent to your inbox – free of charge – sign up here.
Apart from the Tangle-related features, IOTA also has something called "quantum immunity." That means even quantum computers – the next major advance in computing – won't be able to crack it. That's not so for Bitcoin or Ethereum (although both will likely be upgraded for quantum resistance in the future).
All of this makes IOTA a strong contender to emerge as one of the top cryptos. And a lot of companies, governments, and organizations know it. They're already coming up with ways to integrate the IOTA platform…
Who's Involved with the IOTA Cryptocurrency
One good way to gauge whether a platform is catching on is to look at who's using it. This an impressive list so far.
Last year, IOTA unveiled its "digital marketplace," a proof-of-concept project that demonstrated IOTA's ability to distribute and monetize data. Companies that participated in the demo included Microsoft Corp. (Nasdaq: MSFT), Deutsche Telekom AG (OTCMKTS: DTEGY) Fujitsu Ltd. (OTCMKTS: FJTSY), Accenture Plc. (NYSE: ACN), Cisco Systems Inc. (Nasdaq: CSCO), and PwC.
Robert Bosch Venture Capital GmBH purchased an undisclosed number of MIOTA tokens in December.
A partnership with the International Transportation Innovation Center (ITIC), a non-profit organization that develops autonomous vehicle technology, was announced in January.
Volkswagen AG's (OTCMKTS: VLKAY) Chief Digital Officer, Johann Jungwirth, joined IOTA's supervisory board in January. The appointment suggests future collaboration. Said Jungwirth: "IOTA has the potential to set a standard for trusted machine-to-machine transactions."
Taipai, the capital of Taiwan, announced in February a partnership with the IOTA Foundation to develop digital government ID cards.
In addition, the IOTA Foundation is quietly working with more than 40 other companies.
As you can see, the team's goal of having IOTA become a key part of the fabric of the IoT is in the process of being realized.
And bear in mind, IOTA is still a very young project. That makes the progress it has made in attracting interest even more remarkable.
With such promise ahead of it, IOTA could rise well beyond the 300%-plus predicted for 2018, ultimately skyrocketing nearly 30,000%…
How the IOTA Price Could Soar to $360
According to research firm IDC, the amount of IoT data transmitted is expected to grow from 16 zettabytes in 2016 to more than 163 zettabytes in 2025. One zettabyte is equal to 1 billion terabytes (today's PCs often come with 1 terabyte of hard drive storage).
The IOTA Foundation plans to harness that vast amount of data by creating a system that will make it accessible to all – a data marketplace powered by the IOTA cryptocurrency. This is what will drive the value of IOTA.
"IOTA has the potential to really be the backbone of this machine economy, which truly means that a $1 trillion market cap makes a lot of sense for IOTA," co-founder Schiener told Finance Magnates in January.
A $1 trillion market cap divided by the number of MIOTA (2,779,530,283) gives us a price target of $360 – an increase of more than 29,900% from the current price of $1.20.
As an IOTA co-founder, it's possible Schiener is overly optimistic. But if IOTA continues on its current path, its price growth will accelerate. Most investors would be happy if IOTA reached half of Schiener's target, or even a quarter.
A $250 billion market cap would result in an IOTA price of $90 – a 7,400% gain from the current price.
The Cryptocurrency Everyone Else Will Regret Not Owning
Tom Gentile uses tough criteria, including extensive back-testing, to zero in on stock trades that have an extremely high probability of doubling – or better.
Well, he just told us that he's giving a big clear "Go" signal on a cryptocurrency trade.
Like stocks, there are thousands of "coins" out there, and some are much stronger than others. That's not something you're going to hear on the news; they're only focused on Bitcoin.
Tom believes that if he's right about this, as he thinks he is, a small investment today could leave traders with more than $40,000 in a couple of weeks.
He's recorded a video to walk you through how to place the trade he thinks will surge very soon. While you watch, bear in mind Tom's doing this in real time, with real money.
Click here to check out his walkthrough. It's completely free, and you get the name of the coin in the first three minutes, and the full trade recommendation during the presentation.
 All the key details are revealed right here.
Follow me on Twitter @DavidGZeiler and Money Morning on Twitter @moneymorning, Facebook, or LinkedIn
 Related Articles:
About Money Morning: Money Morning gives you access to a team of ten market experts with more than 250 years of combined investing experience – for free. Our experts – who have appeared on FOXBusiness, CNBC, NPR, and BloombergTV – deliver daily investing tips and stock picks, provide analysis with actions to take, and answer your biggest market questions. Our goal is to help our millions of e-newsletter subscribers and Moneymorning.com visitors become smarter, more confident investors.To get full access to all Money Morning content, click here.
Disclaimer: © 2018 Money Morning and Money Map Press. All Rights Reserved. Protected by copyright of the United States and international treaties. Any reproduction, copying, or redistribution (electronic or otherwise, including the world wide web), of content from this webpage, in whole or in part, is strictly prohibited without the express written permission of Money Morning. 16 W. Madison St. Baltimore, MD, 21201.