Like legendary resource investor Rick Rule recently said, "Warren Buffett doesn't need gold, but you do."
With a net worth of $84 billion and a reputation as the most successful investor ever, Buffett's personal finances are in fine shape, even without gold.
But there's no denying that, for the average investor, gold is essential for growing and protecting your money at the worst of times.
The trouble is, between ETFs, closed-end funds, mutual funds, futures, bars, and coins, the choice is dizzying.
There are hundreds, maybe thousands, of ways to own gold. And yet one form provides you with its biggest advantages; there is no substitute for physical gold.
Let's explore some of those unmatched benefits, and then I'll give you my three favorite coins to own.
Seven Reasons Why Gold Is the Undisputed King
There's a long list of reasons physical gold beats out other investments and even other forms of gold ownership.
Stunning: This new innovation will be like "adding twin turbos to the Bitcoin engine" – and could send its price to $100,000. Learn more…
Here are just a few…
Gold is indestructible. It won't rust, corrode or decompose. Gold jewelry and coins made thousands of years ago are found regularly by archaeologists and treasure hunters. Some is even found accidentally, like when farmers turn over their land. In short, unless you lose or sell it, your gold is not going anywhere.
Gold has no counterparty risk. Unlike a bond, stock, or even cash, you don't depend on someone else to honor it. There's no chance of a default.
Gold is a store of value. That's because it has intrinsic worth. And since there's plenty of work required to find and extract gold from the earth, it will always have value.
Gold is privacy. A few ounces stored safely gives you direct control over a valuable asset.
Gold is liquid. You can sell your gold almost anywhere, anytime. It has, countless times, been a life saver for displaced people.
Gold can't be hacked. It's not just digits in a database somewhere for you to depend on.
Gold retains its value. Of course over time, that will fluctuate. But over years and decades, and especially compared to fiat money, gold always wins out.
Now that you know why you need to own physical gold, here are your best options.
Here's the Best Way to Own Physical Gold
Gold, at its root, is a store of value. In a bull market, especially a secular one, you can expect to make a handsome return.
But from the point of view of wealth protection, gold is even harder to beat.
So if you're going to own physical gold, what's the best form? Bars, coins, rounds, wafers, or collectibles?
After studying this market inside and out for decades, hands down, you'll want government mint–produced bullion coins.
That's because they're instantly recognizable, often almost anywhere in the world. They're also standard in size and gold purity. And in many cases, essentially the same coin has been produced for decades on end.
Most People Don't Know This About Bitcoin: A systems upgrade expected any day now could send Bitcoin to $100,000. Go here to see why Bitcoin's not dead… and how it could make you millions.
Now, before I share these with you, I want you to keep in mind that collectible (also known as numismatic) coins are a whole other market, often with sizeable premiums to the gold content. That means you could be paying a lot of money beyond the value of the gold. That doesn't mean it's not worthwhile – only that you really have to know what you're doing. I don't recommend collectible coins except to experienced investors, extremely well-versed in this market.
With that said, here are my three favorite gold coins.
No. 1: the One-Ounce American Gold Eagle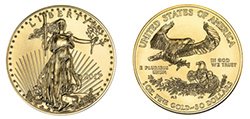 It's produced by the U.S. Mint and issued in limited quantities every year. It has Lady Liberty on one side and bald eagles on the obverse. Between 1986 and 1991, it featured Roman numerals, then in 1992, the Mint began using Arabic numerals.
It contains one troy ounce of pure gold, but is 22-karat, since it also contains 3% silver and 5.33% copper for durability. Right now, premiums are about $50 per coin, which is roughly 4%. One-ounce Gold Eagles are a favorite of U.S. investors. That makes for a large market that offers great liquidity.
No. 2: the One-Ounce Canadian Maple Leaf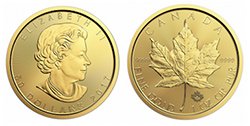 In 1982, the Royal Canadian Mint was the first refinery to produce 9,999 fine gold bullion coins. That means they are 99.99% pure gold, with a maple leaf on one side and Queen Elizabeth II on the reverse.
Over 25 million of these coins have been sold since 1979, making the Canadian Maple Leaf one-ounce gold coin one of the most popular, especially in North America. In 1999, for the 25th anniversary of the Gold Maple Leaf, the mint went a huge step further, producing 99,999 fine gold bullion coins (which are 99.999% pure gold).
No. 3: the One-Ounce South African Krugerrand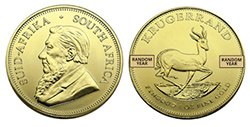 Rounding out my top three is the Krugerrand.
Like the American Eagle, the Krugerrand is also 22-karat, alloyed with 8.33% copper for durability, giving the coin a distinctive rose-tinted hue.
Available since 1967, the Krugerrand is the oldest circulating bullion coin in modern history. At one time, it was the only bullion coin available in the market; interest in the Kruggerand encouraged other gold producers to mint their own gold coins. Produced by the South African Mint, one side displays a springbok antelope, and the obverse has an image of Paul Kruger, the president of the historical South African Republic.
There you have them, three of the most popular gold coins available today.
Depending on where you live, you may have a predisposition toward a particular one of these coins, and that's just fine, because they're all great.
They each enjoy wide circulation and global recognition.
So if you're going to buy gold bullion coins, these are amongst your best bets. Just be sure to buy from a reputable dealer, and don't pay more than about a 4% premium to the gold content.
Then you can rest assured that you've bought the highest quality insurance for your portfolio.
And there's simply no price to put on that kind of peace of mind.
See Why Bitcoin Is Far from Dead (and How It Could Make You a Millionaire)
At our recent Bitcoin 20x Summit, we uncovered information that left many folks stunned – and re-evaluating everything they thought they knew about the crypto market.
You see, while Wall Street and Fortune 500 companies continue to badmouth Bitcoin, they're diving headfirst into this craze… and I'd bet not one in 10,000 people know the reason behind it.
Go here to see why Bitcoin's not dead… and how it could make you millions.
Follow Money Morning on Facebook and Twitter.
About Money Morning: Money Morning gives you access to a team of ten market experts with more than 250 years of combined investing experience – for free. Our experts – who have appeared on FOXBusiness, CNBC, NPR, and BloombergTV – deliver daily investing tips and stock picks, provide analysis with actions to take, and answer your biggest market questions. Our goal is to help our millions of e-newsletter subscribers and Moneymorning.com visitors become smarter, more confident investors.To get full access to all Money Morning content, click here.
Disclaimer: © 2019 Money Morning and Money Map Press. All Rights Reserved. Protected by copyright of the United States and international treaties. Any reproduction, copying, or redistribution (electronic or otherwise, including the world wide web), of content from this webpage, in whole or in part, is strictly prohibited without the express written permission of Money Morning. 16 W. Madison St. Baltimore, MD, 21201.