Over a decade ago, I was involved in assessing the vulnerability of Saudi oil installations. The target was to determine risk factors in designing revised security protocols for virtually everything from field security to processing and tanker/pipeline shipments.
Then, the primary focus was al-Qaeda and associated/related groups. Today, we are confronting a more nation-centered source and far more destructive potential.
A significant overhaul of safety procedures followed the release of that report. Nonetheless, a series of attacks/episodes followed that pointed toward a continuing problem. Aramco, the national oil company, remains tight-lipped on the number of attacks thwarted by Saudi security.
However, following an episode several months ago, which the company has still not completely explained, concerns are again being addressed. In late July of last year, an incident took place at the large Yanbu refinery complex on the Red Sea coast. After several days of silence, Riyadh said that a fire at the complex was the result of a power transformer blowing at a gate.
Yanbu is one of three main installations on the west coast of the Saudi peninsula, connected via the nation's dominant pipeline system to the primary oil-producing regions and operations in the east.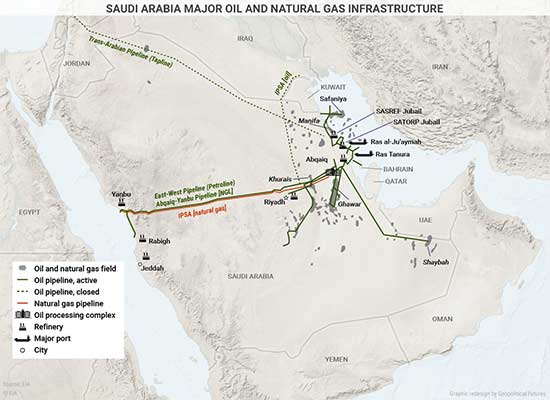 Source: U.S. Energy Information Administration
Unfortunately, there is another explanation that's more disquieting. This one involves an H-2 Burkan ("Volcano") medium-range missile fired from Yemen by Houthi rebels embroiled in a protracted civil war against the Saudis. This version had more regional media exposure, including headlines in Iranian newspapers. And Tehran ought to know.
Must See: The defense industry is a gold mine – you can't afford to miss this $6 company…
The Burkan line of missiles is an Iranian version of a Russian Scud and has been provided to the Houthis. As indicated below, Yanbu is within the range of the Iranian missile… as are the capital at Riyadh and all of the producing oil assets in the eastern part of the country…
Range of H-2 Burkan Missle If Fired from the Yemeni Capital of Sana'a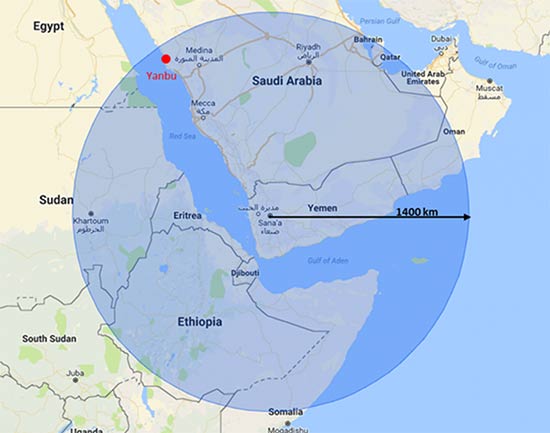 Source: Google Maps; Stream Asset Financial Energy Blog
There is also another interesting twist in the Yanbu affair. The Houthis have video of the purported missile launch, and that video has been widely distributed through the Persian Gulf.
This is hardly a hypothetical exercise. In March of last year, the Houthis fired earlier versions of the Burkan at the King Salman Air Base outside Riyadh and at the main oil administrative complex in the Eastern Province at Dhahran.
As was the case in the Yanbu episode, the Saudi government said nothing for several days until the story had percolated in the regional media. Despite the first attack taking place on March 17, it was not until March 22 that there was any official acknowledgement of the events. On that occasion, the Saudis admitted it was a missile attack but said both had been successfully shot down.
As a "Scud-clone," the Burkan family of missiles is not known for pinpoint accuracy. But launching in mass and targeting a broader area of installations may offset this.
Yanbu had also been the scene of an earlier event, one of those analyzed in the report referenced at the outset of this ECRG Intel. On May 1, 2004, militants entered the offices of a petrochemical plant in Yanbu and opened fire on Westerners. Two Americans, two Brits, an Australian, and a Canadian were killed in the attack, along with a Saudi National Guardsman. On May 14, 2004, a statement purportedly from Abdel Aziz al-Muqrin (al-Qaeda's Saudi chief) claimed responsibility for the attack on behalf of al-Qaeda's Yanbu cell.
Today, the Red Sea coast area including Yanbu remains a hotbed of militant activity in Saudi Arabia.
Don't Miss: Trump's Secret Weapon Set to Foil China's Master Plan
Yet all of this may be merely a precursor to the main target the Houthis have in mind. As my earlier analysis had indicated, attacks will be centered in the Eastern Province. That's where the maximum damage can occur with the minimum amount of commitment (the "maxi-min" approach long used in security and strategic studies as a primary analytical yardstick).
Unfortunately, it is also here that most of the current discussion is pointing in the wrong direction.
Let me try to explain it this way: Consider three concentric circles, each one illustrating how an adversary could best paralyze Saudi oil revenue. The outer circle would involve blocking the narrow Strait of Hormuz at the southern end of the Persian Gulf. Barely two miles wide at its mouth, it separates the United Arab Emirates to the west and the Iranian coastline to the east.
Closing the strait would choke off up to 20% of the world's crude oil flow coming from a number of OPEC members and result in at least a $10 spike in oil prices almost immediately, with a level of $150 a barrel within a few days.
Hormuz is beyond the range of Houthis missiles. Closing it would require a military move by Iran. While that's always a possibility, the chances of that happening are now probably less likely than in the recent past.
The second of our concentric circles moves up the coast to the mega complex at Ras Tanura. This is the largest oil shipping location in the world and the single most important part of the entire Saudi infrastructure. The main East-West pipeline does allow for some export, as does the Tapline moving northwest to Jordan.
But taking out Ras Tanura would prevent most of the Saudi exports from reaching market.
Several years ago, there was an attempt to mount a nautical attack on the facility. But it was never a major problem and was interdicted well before there was any threat to the exports. Ras Tanura is now one of the most heavily guarded locations in the country.
It is, however, within missile range from Yemen.
The smallest of our three concentric circles, however, has been my main concern for years. It is also a matter that receives little if any attention. It was my primary recommendation in the earlier report. If there is any weak link maximizing Saudi vulnerability to attack, it is Abqaiq.
Abqaiq is located about 25 miles southwest of the Dhahran oil admin command. It is the largest oil processing plant in the world, and it handles more than half of Saudi Arabia's daily exports, has a daily processing capacity of more than 7 million barrels, and runs a pipeline onward to Ras Tanura.
Stretching over a wide area, the processing plant removes water, gas, sulfur, and other impurities from freshly pumped crude oil so that it can be loaded onto tankers for shipment across the world.
It certainly comprises an important symbolic target but a difficult installation to knock fully out of commission. Apart from being well protected by fences and electronic security devices, it is also said to have been designed with built-in redundancy, meaning damage need not reduce the quantity of oil processed. Besides ground attack, Saudi authorities are said to have anticipated the possibility of a hijacked aircraft being crashed into the plant. Saudi air force F-15s are reported to be on continual standby.
Abqaiq has also been the location of a previous terrorist attack. On Feb. 24, 2006, two pick-up trucks drove up to the processing facility. Security forces opened fire on the vehicles, prompting the men to detonate their explosives at the outer perimeter. No damage to the oil facilities was reported. On Feb. 25, an Islamist website posted a claim of responsibility from Saudi al-Qaeda.
Trump's Secret Weapon Against Chinese Aggression: Hostilities in the South China Sea now seem imminent, and the Trump administration could be on the verge of its first major crisis. But thanks to a small $6 U.S. defense firm with a top-secret new technology, China is about to be taken to the woodshed. Frankly, you have to see it to believe it…
That attack in retrospect appeared amateurish and failed. Nonetheless, attesting to the importance of the facility, the attack spiked oil prices $3.50 a barrel in very short order. At least two of the attackers were killed, along with two security guards. On Feb. 27, Saudi authorities said they had killed another five terrorists linked to the Abqaiq attack in a clash in Riyadh, and they were interrogating a further suspect.
The failure of the attack and the reported success of the subsequent counterterrorist operation give the impression of Saudi efficiency, but it should at least as much serve as a warning.
As I noted in my report and recommendations, a specific location within the vast Abqaiq complex is the epicenter of concern.
That's because the most vulnerable location in the entire Saudi operation is not the vast extent of operations at Abqaiq, but rather eight towers in a very confined location. These: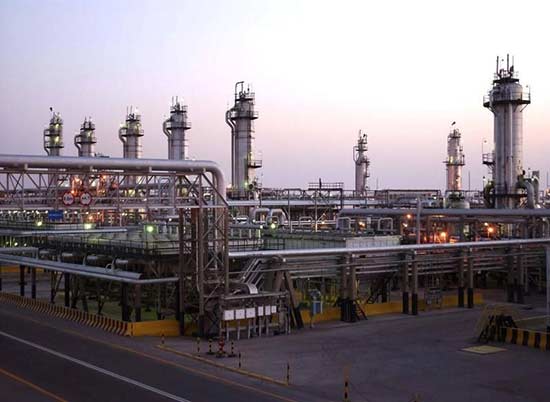 Abqaiq Desulfurization Towers; Photo: Saudi Aramco
What I emphasized in my conclusions was this: Saudi crude has a very high sulfur content. That sulfur (or most of it) must be removed to allow its export. Otherwise, the oil's value is dramatically reduced by the expense involved in processing it at end-use refineries worldwide. Without the desulfurization provided by these eight towers at Abqaiq, the Saudi economy goes belly up.
As I said at the time: "An opponent does not have to take out the entire sprawling facility. Just this location within it."
When I wrote this line over a decade ago, we were still concerned with groups like al-Qaeda. Then, so long as the attack requires the use of pick-up trucks, it could be easily contained. Moving to airplanes as weapons, the Saudi air force provides an adequate deterrence.
But the enemy now has missiles provided by Iran, the nation most hating Saudi Arabia. And those missiles have all of Abqaiq within range.
Adding drones to this equation significantly increases the threat level. And the attendant risk associated with that level means ongoing pressure on oil prices.
America's Favorite Angel Investor Shows How Easy It Is for Anyone to Invest in Ground-Floor Startups
You've probably seen stories about this person or that person making an absolute fortune from some unknown startup suddenly becoming a household name… like Uber, Airbnb, SpaceX, or Bird.
Now, it's your turn.
Shark Tank's Robert Herjavec is showing how easy it is for anyone to turn as little as $50 into what can be life-changing windfalls… all from investing in startups.
Follow Money Morning on Facebook and Twitter.
About Money Morning: Money Morning gives you access to a team of ten market experts with more than 250 years of combined investing experience – for free. Our experts – who have appeared on FOXBusiness, CNBC, NPR, and BloombergTV – deliver daily investing tips and stock picks, provide analysis with actions to take, and answer your biggest market questions. Our goal is to help our millions of e-newsletter subscribers and Moneymorning.com visitors become smarter, more confident investors.To get full access to all Money Morning content, click here.
Disclaimer: © 2019 Money Morning and Money Map Press. All Rights Reserved. Protected by copyright of the United States and international treaties. Any reproduction, copying, or redistribution (electronic or otherwise, including the world wide web), of content from this webpage, in whole or in part, is strictly prohibited without the express written permission of Money Morning. 16 W. Madison St. Baltimore, MD, 21201.