Aurora Cannabis Inc. (ACB) in Calgary, Canada, is a global cannabis industry leader that services the medicinal and consumer sectors. However, its stock is down 83.7% in price over the past year and 70.1% year-to-date to close yesterday's trading session at $1.62. In addition…
its shares are currently trading 84.8% below their 52-week high of $10.64, which they hit on June 09, 2021.
Although the cannabis company has made noteworthy progress in broadening its portfolio by introducing new unique cultivars and increasing its foothold in the rapidly growing medical cannabis sector, it has struggled to achieve consistent revenue growth. The company's consumer cannabis net revenue came in at $10.3 million in the third quarter, ended March 31, 2021, down from $14.4 million in the prior quarter, owing primarily to industry-wide price pressures across the company's portfolio and exacerbated by retail outlet closures for its premium products in key provinces.
In addition, in a report last month, CIBC analyst John Zamparo downgraded ACB from Neutral to Underperformer, implying that he expects the stock will trail behind its Canadian cannabis peers over the next 12-18 months.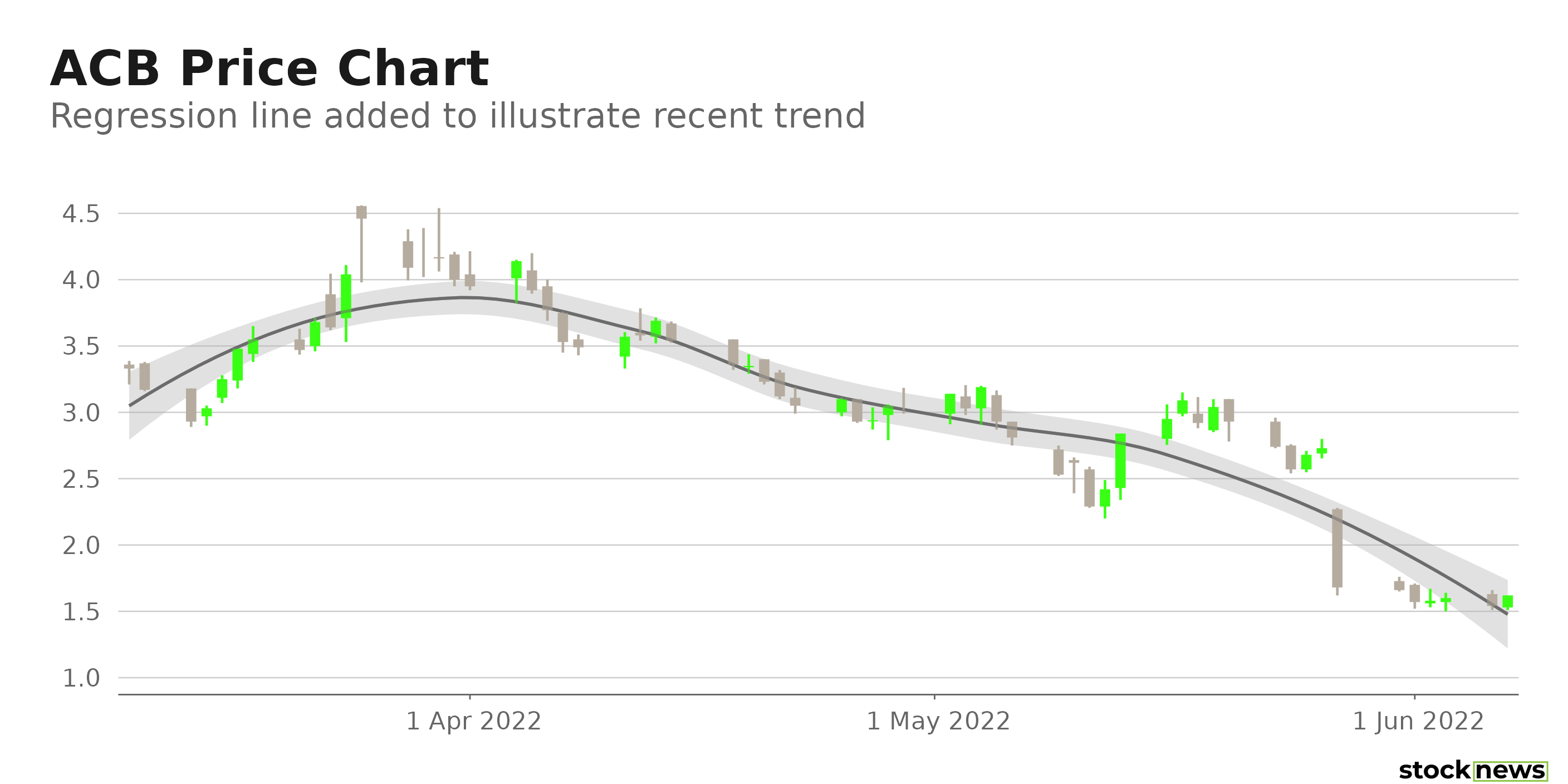 Here is what could shape ACB's performance in the near term:
Bought Deal Financing
This month, ACB announced the completion of an offering of the company's units to raise approximately $172.5 million in gross proceeds. The company sold approximately 70.4 million units at $2.45 per unit, including approximately 9.2 million units issued due to the underwriters' exercise of its over-allotment option. According to the ACB, the offering's net proceeds will be used for general company purposes.
Negative Profit Margins
ACB's 0.10% trailing-12-month asset turnover ratio is 71.2% lower than the 0.36% industry average. Its 13.1% trailing-12-month gross profit margin is 76.5% lower than the 55.5% industry average. Also, its trailing-12-month ROA, ROC, and levered FCF margin are negative 78.6%, 6.7%, and 25.7%, respectively.
Weak Growth Prospects
The Street expects ACB's revenues and EPS to decline 7.6% and 29.2%, respectively, year-over-year to $178.01 million and $4.16 in fiscal 2022. Furthermore, analysts expect its EPS to decline 29.2% next quarter (ending Sept. 30,  2022)
POWR Ratings Reflect Bleak Outlook
ACB has an overall D rating, which equates to Sell in our proprietary POWR Ratings system. The POWR ratings are calculated by…
Continue reading at STOCKNEWS.com