Summer gas prices are back, and it's got everyone thinking about electric vehicle stocks.
The average price per gallon in California broke $4 this month for the first time since 2015, according to The New York Times. Fox Business announced the national average just hit its 2019 high of $3 and is still climbing.
And higher gas prices are a huge catalyst for electric vehicle sales. Toyota and Honda sold out of hybrids in 2008, when gas prices peaked at $4.11 per gallon. We might not be far away from those highs as oil prices keep climbing.
That's why we want to show you how to profit from this emerging trend – it has nothing to do with owning Tesla Inc. (NASDAQ: TSLA).
We have three other EV stocks that may not be at the forefront of your mind.
This industry is much bigger than any one company. In fact, it's expected to grow more than 300% over the next five years. It's going to change how cars work.
And we're going to tell you about the big investments that don't make major headlines, where you could see profits over 106% if you buy soon enough.
But first… Why's gasoline going the extra mile to burn your wallet?
The Real Reason Gas Prices Are Rising Again
There are three reasons your gas will be more expensive this summer, and it's not just the long drive to the beach.
First, gasoline behaves differently at different temperatures. Summer fuel is more refined, as required by law, to keep it from evaporating in the heat. More materials are required to make this happen, making it more expensive to produce.
Another reason is that refineries typically need maintenance to switch from the winter to summer blends. So large parts of the refineries close down, and supply is restricted. This happens every year, between April and September, right under your nose.
But those are just the basic overhead, the usual summer blues. On top of weather and seasonal maintenance, gas prices are heading higher for a third reason: Oil is getting more expensive.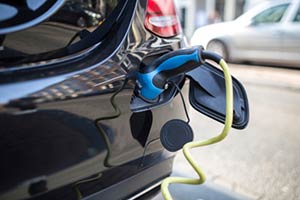 Geopolitics control the supply of oil, pushing prices higher or lower depending on what's happening.
Right now, the Organization of Petroleum Exporting Countries (OPEC) is planning to restrict its crude oil output. At the same time, the White House seems to want to double down its sanctions on Iran and Venezuela, both OPEC members.
Of course, the United States is tapping into its own reserves, providing some counterweight to the international supply curb. There's no telling how much that will affect oil prices in the long run, but Money Morning Global Energy Strategist Dr. Kent Moors say they could hit $72 per barrel in the next few months. (Good thing we've given you a backdoor play to profit from this, one way or another.)
And higher oil prices are translating into higher gasoline prices.
According to The Balance, oil makes up about 71% of the price of gasoline. The price of oil is slightly more volatile, and it takes a matter of weeks for gasoline to respond, but they tend to follow each other with some consistency, as you can see in the chart below:
With all the buzz around oil prices, atop a seemingly inevitable push toward eliminating fossil fuels, EVs are almost certain to creep into popular consciousness one way or another.
Prius sales went up more than $100 million in 2012, from $136.5 million to a record high $236.7 million. You know what also happened in 2012? The record highest average U.S. gas price of $3.60/gallon.
But that was back in 2012. The batteries today are getting cheaper and more efficient, and more firms are getting in on the electric trend than ever before. More affordable battery prices coupled with higher gas prices could send EV sales surging.
In fact, Greentech Media reported an 81% increase in electric vehicle sales in 2018. It's no wonder the industry is expecting explosive growth. The EV market was valued at $118.9 billion in 2017, but Allied Market Research projects it will reach $567.3 billion by 2025.
That's 377% growth over a half decade.
That means there's still time to get in early. Here are the best EV stocks to buy, including one that could double your money over the next year…
Best Electric Vehicle Stocks to Buy, No. 3: Toyota Motor Corp.
Toyota Motor Corp. (NYSE: TM) was the first in the world to deliver a "green" car with its hybrid Prius back in 1997. In late 2017, it announced electric versions of every one of its models would be available by 2025.
The company also said it plans on hitting a sales target of 5.5 million EVs by 2030.
But TM is taking it slower than most other auto manufacturers.
While others parade abstract, futuristic floor model concepts, supposedly to compete with Tesla Inc. (TSLA), Toyota has sat back, carefully observed the market for EVs, and stuck to what it knows: hybrids.
5G Revolution: This breakthrough technology is expected to unleash $12 TRILLION in new wealth… and one $6 stock could be better positioned than any other to skyrocket. Learn more.
Toyota sold 1.52 million of them in 2017, chipping away at its 5.5 million goal. This number will grow as its number of offerings expands, as it has promised it will. And it looks like this will happen in whatever time frame Toyota feels is most economical.
Right now, batteries for EVs are nowhere near scalable, costing about as much as the car itself, according to Toyota's Executive VP of Sales for North America, Bob Carter. And he's right – today, no EVs are produced at a profit.
But Toyota's position as the largest auto manufacturer in the world ($200.82 billion market cap) allows the freedom to penetrate the EV market in due time, with just the right formula.
Management is taking the right steps to penetrate highly regulated markets right now, having just traded some Toyota EV technology to smaller Chinese firm Singulato in exchange for new energy vehicle (NEV) credits. These will keep them from having to meet the EV quota in China, for now.
The company has a few other transactions like this in the works, so it can still produce a reasonable number of gas-powered vehicles while it still makes financial sense, without penalty from highly regulated governments in China and Europe.
The Toyota stock sells at $123.89 right now, and it's currently close to hitting its six-month high of $126.28. The average analyst predicts a 20% jump to $148.01 by the end of 2019.
Toyota also offers dividend yield of 3.21%. The company is a big, safe buy if you're betting on the EV industry. But it could fully exceed analyst expectations once it's fully electrified its entire portfolio of cars.
Best Electric Vehicle Stocks to Buy, No. 2: Ford Motor Co.
Ford Motor Co. (NYSE: F) is also among the biggest auto manufacturers in the world, at a $41.69 billion market cap.
It currently offers EV versions of both the Mustang and the F-150. Just last week, it bought Rivian – an EV startup and Tesla rival – for $500 million, to expand its EV inventory even further.
Rivian specializes in heavy-duty lugging EVs such as pickup trucks and SUVs. Amazon recently invested $700 million in this company to develop its own electric delivery vehicle.
Ford is now in position to use its influence to push Rivian's state-of-the-art technologies into the mainstream.
But that's not the only partnership Ford has leveraged for growth in the EV sector. The company recently announced it would partner with Volkswagen (VW) to develop commercial EVs and medium-sized pickups as well as investigate the prospects of driverless vehicles.
Ford plans to restructure and put $11 billion toward this EV endeavor by 2022, hoping to produce 40 EV models in total. The stock price will climb the closer it gets to making this a reality.
This company takes a slightly more bullish position than Toyota on the EV future, but the stock could really skyrocket if it captures a large enough segment of the market at the right time. And only time will tell.
Right now, Ford sells at $10.45 a share, with a high analyst target of $13. But as it makes preparations to venture into the EV revolution, if successful, the Ford stock is poised to explode.
Meanwhile, Ford makes a phenomenal dividend stock. It pays a huge 6.83% dividend, more than the interest on most savings accounts.
But this next stock is undoubtedly the most profitable investment in the EV realm.
Analysts predict price growth of more than 100% for this one in 2019…
The Best Electric Vehicle Stock You Weren't Looking For
Up to now, the EV market has been heavy on luxury. Due to the batteries mentioned earlier, and other production costs, it's going to take a while for an EV to become a common good.
Fiat Chrysler Automobiles NV (NYSE: FCAU) intends to produce both luxury and "everyday" type EVs.
The company announced four electric Maseratis would hit the market by 2022. But that was in addition to the Ram and Jeep plug-in hybrids that would also be on the market within that time frame.
Eventually, Fiat Chrysler expects every Jeep to have a hybrid plugin as well as a fully electric option. It's investing $4.5 billion dollars in assembly plants to make this happen.
A Jeep today gets under 20 mpg (if we're generous), below the average 24.7 (according to Reuters), and still Jeep had its best year to date in 2018, selling almost a million (973,227) units in the United States alone. Adding an EV option should expand the Jeep base, enticing anyone who may have been on the fence regarding its fuel economy.
But Fiat Chrysler isn't just going with the tide – it's vying for leadership in the EV industry. And like Toyota, FCA's management has shown it's practical enough to consider the length of time that might take.
The company recently struck a deal that allows it to be counted among the Tesla fleet in the European Union. This lowers their average emissions output and staves off billions in potential EU fines as they go about their regular gas-powered vehicle operations for the time being.
So this company is being smart about their potential market share. But it's likewise with their financials.
FCA raked in a $1.4 billion profit in Q4 2018, a 61% year-over-year jump. Total profits in 2018 amounted to $3.9 billion. This is more than enough to fund EV expansion and pay shareholders a nice 5.29% dividend. Earnings per share are also expected to increase from $1.17 in 2018 to $3.13 by the end of 2019, a 167% jump.
But this stock is expected to deliver even greater profits very soon. Our proprietary Money Morning Stock VQScore™ system gives it a 4.15, meaning it's ready for a breakout in price. And Morningstar predicts a price jump of 106% from today's $15.16 to $31.
5G Is Coming: The Breakthrough of the Century Could Rest on This $6 Stock
CNBC reports that this opportunity is worth $12.3 trillion… and it's gearing up to make an appearance all over America.
In fact, some of these devices are showing up right in your neighborhood – and I'm willing to bet you didn't even notice.
Our Silicon Valley insider mapped out all the details in this report.
Follow Money Morning on Facebook and Twitter.
About Money Morning: Money Morning gives you access to a team of ten market experts with more than 250 years of combined investing experience – for free. Our experts – who have appeared on FOXBusiness, CNBC, NPR, and BloombergTV – deliver daily investing tips and stock picks, provide analysis with actions to take, and answer your biggest market questions. Our goal is to help our millions of e-newsletter subscribers and Moneymorning.com visitors become smarter, more confident investors.To get full access to all Money Morning content, click here.
Disclaimer: © 2019 Money Morning and Money Map Press. All Rights Reserved. Protected by copyright of the United States and international treaties. Any reproduction, copying, or redistribution (electronic or otherwise, including the world wide web), of content from this webpage, in whole or in part, is strictly prohibited without the express written permission of Money Morning. 16 W. Madison St. Baltimore, MD, 21201.