I'm a huge believer in being honest.  And to be honest with you, cannabis stocks have – despite the hype – been an utter disappointment for years.  Back in October 2018, Canada legalized recreational weed. That was supposed to…
open the floodgates for the cannabis industry, and usher in a new "Golden Era" for cannabis companies, sparking a decade of hypergrowth.
That didn't happen.
Canada botched the roll-out of legal weed by being too restrictive on taxes and distribution. Demand stayed in the black market. Other countries took note and proceeded to put their own cannabis legalization efforts on hold.
Pot stocks – which soared into the Canadian legalization catalyst in late 2018 – have since plunged, with the ETFMG Alternative Harvest ETF (MJ) falling as much as 80% from late 2018 to early 2020.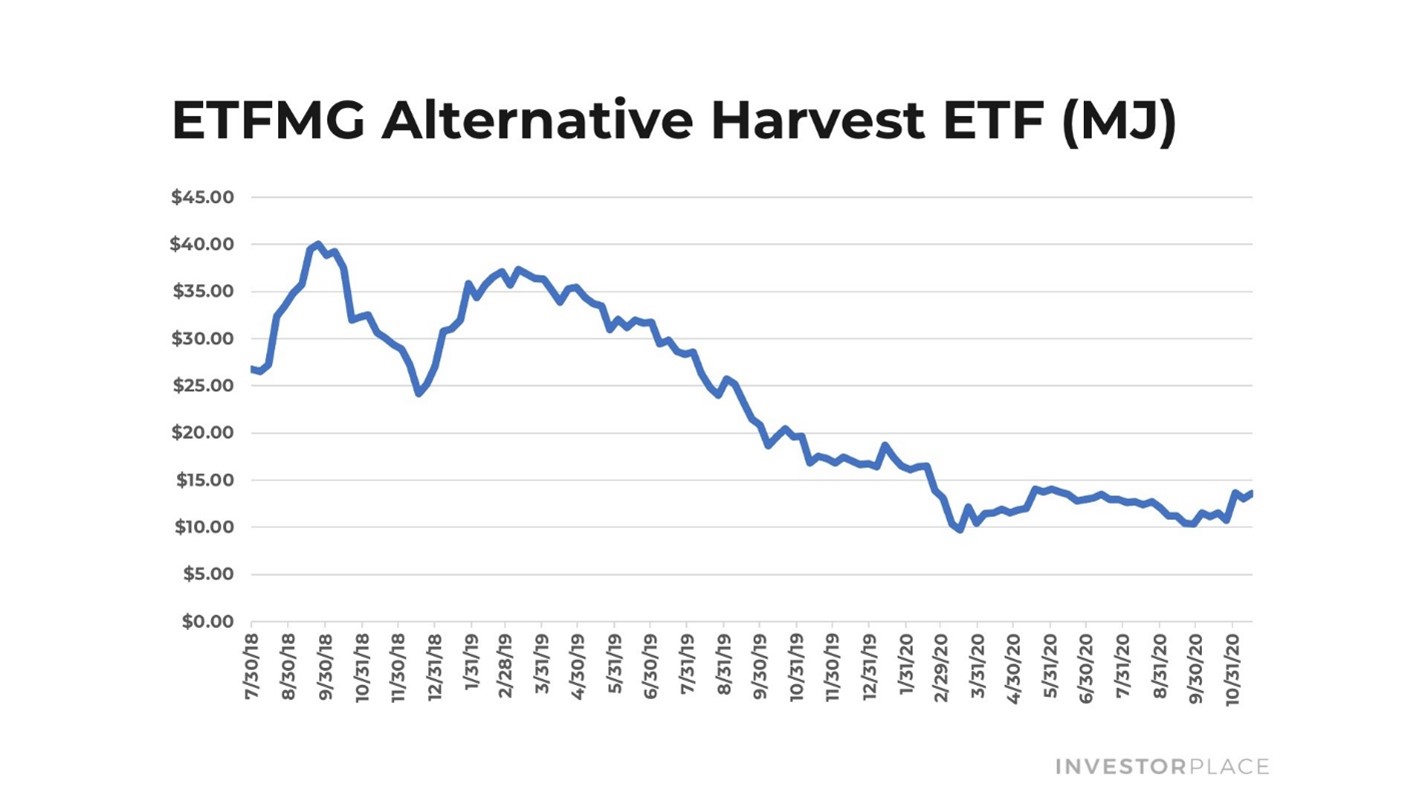 Talk about a disappointment…
But the tide is finally starting to turn for this "disappointing" industry.
Sure, you may have just read that the big U.S. bill to federally decriminalize cannabis – the Cannabis Administration and Opportunity Act – failed to muster enough votes to pass the Senate. Pot stocks have tanked over the past week as a result.
But this sell-off presents a compelling opportunity, because while that headline legislation didn't pass, it doesn't need to for this industry to sprint into hypergrowth mode over the next 12 months. That's because weed is already legal in most big markets, and in those markets, legal sales are just starting to boom.
In 2020, Canada significantly eased cannabis market restrictions, and created a better legal framework which is starting to pull demand from the black market into the legal channel.
These key changes include:
Pivoting from a "lottery system" for retail store openings to an "open licensing" model which has removed a hard cap on the number of cannabis stores allowed to operate in certain provinces and caused a surge in legal pot distribution.
Introducing new derivative products like edibles and drinks into the market, which has sparked a surge in consumer demand.
Dropping the price of legal cannabis to C$7.05 per gram, which undercuts the cost of black market weed at around C$8 per gram.
The result?
For the first time ever, legal pot spending in Canada topped black market spending in the third quarter of 2020. That trend accelerated in the fourth quarter of 2020, and most signs point to it accelerating even further here in 2021.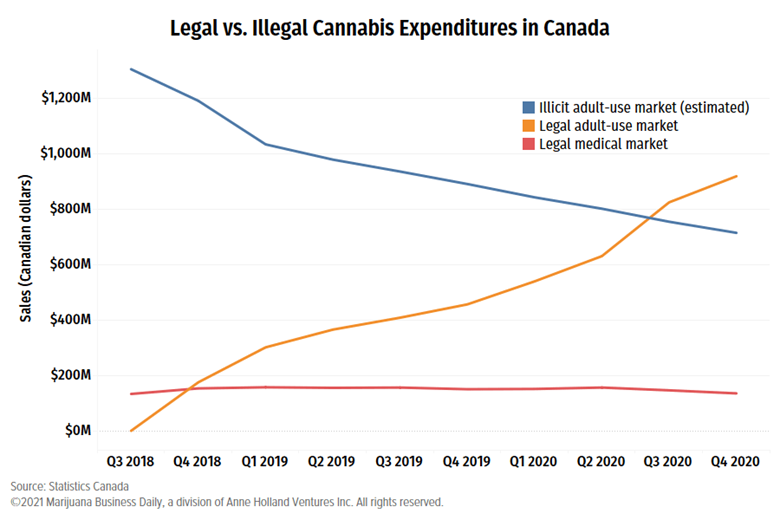 In other words, the legal Canadian cannabis market boom that was supposed to happen back in late 2018, is instead happening right now.
At the same time, although the…
Continue reading at INVESTORPLACE.com