The cannabis revolution is here, and there's still time for investors to jump into this lucrative market before it truly takes off. To help you do just that, we've put together this guide on everything you need to know about investing in cannabis stocks in 2019.
Cannabis stocks are gaining steam as a mainstream product thanks to a wave of legalization across North America and new discoveries about its medicinal properties.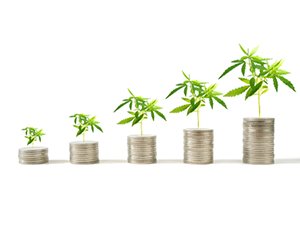 Eleven states have already fully legalized cannabis, while 33 more have legalized marijuana for medicinal use. On top of that, Canada fully legalized cannabis just last year.
It's now a matter of when – not if – the rest of the United States legalizes cannabis. We expect the federal prohibition on cannabis to end as soon as next year.
What's helping fuel the legalization of cannabis is a shift in popular opinion. Two-thirds of Americans now support legalizing marijuana, according to Gallup.
Part of this shift is thanks to research on the benefits of cannabis.
You see, there have been more than 100 compounds, called cannabinoids, isolated from the cannabis plant. You already know about THC, the psychoactive compound, but cannabidiol (CBD) is now being used to treat epilepsy, anxiety, and pain. In fact, studies even show it's useful in treating opioid addiction.
These treatments can be truly life-changing.
And the money it can make marijuana investors can also be life-changing.
That's why we're going to show you how you can grab your share at once, including one of our best marijuana stocks to buy right now…
Why Investing in Cannabis Stocks Is for Everyone
You don't have to use it or even like it to invest in cannabis.
People invest in cannabis stocks for the same reasons they invest in steel makers or streaming media companies. They want to make money on growing industries.
THREE STOCKS: Any one of these cannabis companies could potentially deliver a 1,000% windfall. Click here to learn more…
And history shows that one of the best ways to grow your wealth is to invest in the stock market.
Between 2007 and 2016, stocks returned an average of 8.65% per year, compared to 5.03% in 10-year Treasury note, 7.88% in gold, 0.74% for risk-free Treasury bills, and 1.73% in five-year bank CDs.
Don't forget, we're starting these calculations right before the financial crisis bear market began, when stocks temporarily took a beating! As you can see, the stock market is the best way for investors like you to build financial independence, keep up with inflation over time, put some extra money in their pockets, and save up for that dream vacation.
But buying cannabis stocks could electrify these returns. Just look at how quickly this industry is growing.
All cannabis sales in the United States totaled $86 billion in 2018. That's a total of 49 million customers that spent an average of $1,755 each on marijuana.
The best part is that cannabis stocks have even more room to run higher. Around $68 billion of the $86 billion total came from areas where recreational cannabis is illegal. The National Institute for Cannabis Investors says the other $18 billion is from the legal market.
That means there is at least $68 billion worth of revenue sitting on the sidelines, just waiting to be scooped up once more states legalize cannabis. And bringing the $68 billion to the legal market will happen much faster than Wall Street thinks. It won't take long for the shift to happen because it's not creating new habits.
LEGAL WAVE: Barriers to marijuana could be tumbling in Mexico and Thailand, but it's here in the U.S. where legalization could spark a "Green Rush" in certain stocks. Click here to learn about three of them…
There are already 49 million cannabis consumers in the United States alone. And they're all just waiting to hand over their money and buy legal cannabis.
Legalization will mean a slew of new consumption methods too, including edibles, cannabis vape pens, and even cannabis-infused beverages. That's only naming a few of the possibilities.
Products like these could appeal to new users, as well. These markets could add another $30 billion in sales to the cannabis sector.
But that's only part of the story.
There's also an entire behind-the-scenes ecosystem for marijuana products. There are cultivators that sell to marijuana product manufacturers. Then there are companies that specialize in packaging. And those that work with mainstream product manufacturers to add cannabis to existing products, such as beer, body lotion, and even pet products.
Back office suppliers, such as cloud computing, will be needed to track business progress. And of course, financial companies stand to profit when they are finally allowed to finance cannabis operations. Imagine how cannabis companies themselves will flourish once they have full access to the tools that all other companies have.
All these sub-industries could rocket the marijuana market to over $350 billion in the United States in five years. That's a whopping 307% increase from today, or an annual growth rate of 80%.
That could send the right cannabis stocks surging.
Here's how you can get in right now…
How to Invest in Cannabis Stocks
Investing in cannabis stocks is just like investing in any other stock.
It takes some work to find the right stock, but the process is simple. And we're here to help.
All you need is a brokerage account and some money to invest. A few clicks of a mouse or a phone call, and you're on your way.
If you have no prior experience buying stocks, don't worry! Technology has made it simple to do and easy to track your holdings.
Remember that this is investing, not day trading. That means you're not going to have to battle against institutions and professionals. You're not going to have to sit glued to your computer, day in and day out, watching the market's every move. Instead, you'll look to buy shares of solid companies with solid business prospects, and you'll profit as they execute their long-term strategies.
A stock is quite literally a share in a company. When you buy it, you own a chunk of that company. As the value of the company increases, so does the value of your share. And if the company pays dividends, each quarter, shareholders will also receive a dividend check – the more shares of the stock you own, the bigger the check.
Just keep in mind that the value of a stock can go down if the company can't execute its plans or even if the entire stock market hits a rough patch. But over time, stocks tend to move higher, so it often pays to be patient.
STAKE YOUR CLAIM: Three pot stocks in particular could be poised for rare, wild gains of up to 1,000%. Click here to learn how you could see a $2 million "pot payday"…
To get started, you first need to choose a broker. Think of a brokerage account as a store where you can buy and sell stocks, bonds, mutual funds, exchange-traded funds, and other investments. Opening an account is easy, and you will simply fill out a few forms online. Some brokers may have actual branches nearby, so you can do this in person if you feel more comfortable doing it that way.
And if you already have a retirement account, like an IRA or a 401(k), you may already have a relationship with a broker. You can ask them to set up a non-retirement account, sometimes called a "cash account."
Then you simply fund your account with what you'd like to invest. You can add more at any time for your next investment.
Stocks run the gamut in prices from pennies to hundreds or even thousands of dollars per share. However, the majority of stocks trade between $20 and $60 per share.
Of course, you'll also need to consider if there are any account minimums – the minimum amount of money your broker wants you to keep in your account – as well as any commissions and fees. A commission is just a small charge to compensate the broker for executing the buy or sell order. Typical discount broker commissions can be less than $10 per transaction.
Your broker will be able to tell you exactly what all these fees, commissions, and minimums are for your specific account. They'll also be able to tell you exactly how to transfer money into your account, whether by writing a check or by initiating an electronic transfer (ACH) from your bank. Just give your broker a call or send them an email – they'll be glad to help you with this process!
We've put together a list of different brokers with their minimum dollar amount and commission prices, right here.
Where to Buy Cannabis Stocks
Even though cannabis is not yet completely legal in the United States, marijuana stocks are still sold just like regular stocks.
While many cannabis stocks trade on Canadian exchanges, making it more difficult for American investors to buy, many also trade in the United States.
Don't be afraid of investing in companies that are not headquartered here. Chances are, you already own shares of some of them, such as the Chinese Alibaba Group Holding Ltd. (NYSE: BABA) or Anheuser-Busch InBev NV (NYSE: BUD), now headquartered in Belgium.
Plus, plenty of American cannabis companies are trading on American exchanges. These run the gamut from CBD companies to growers to financiers specializing in cannabis companies.
In fact, one of the best cannabis stocks to buy right not might even surprise you…
The Best Cannabis Stocks to Invest in for 2019
Major retail companies and online stores are stocking up on CBD oils, edibles, beverages, lotions, gummies, and even salad dressings. Companies like Amazon.com Inc. (NASDAQ: AMZN) and Walgreens Boots Alliance Inc. (NYSE: WBA) have already begun to capitalize on CBD oil's potential.
But one of the best marijuana stocks you can buy is Constellation Brands Inc. (NYSE: STZ). While this is a major beer, wine, and spirits maker, it has already made solid inroads into the legal cannabis industry through a $4 billion investment in Canopy Growth Corp. (NYSE: CGC).
This is projected to be worth $66.3 billion by 2025. But more than just an investment, Constellation is looking to develop its own cannabis-infused products and could potentially be a seller down the road. Constellation would have a major leg up on rivals since it already has distribution networks and the know-how to navigate state-by-state regulations.
On top of being a major brand diving into the cannabis sector, it's an excellent all-around stock to own.
Constellation managed to deliver $2.21 earnings per share in Q1 2019, beating some estimates by 6.8%. It also posted surprise earnings in the previous quarter, beating expectations by 7.6%.
And that's just the beginning for Constellation.
ArcView Market Research reported the recreational marijuana market in North America will grow from $4.2 billion in 2018 to $14.9 billion in 2021.
That's 255% growth in just four years. And Constellation is reportedly pursuing a line of cannabis-infused beverages, a market expected to grow 147%, worth $1.4 billion by 2024.
It's no wonder Wall Street predicts shares will surge 40%, jumping from $193 today (Aug. 15) to $270 a share in the next 12 months.
But Wall Street is still underrating the potential here.
The Money Morning Stock VQScore™ system also flagged STZ as a breakout stock. This is a proprietary system that finds stocks ready for a price jump. And Constellation Brands has a perfect 4.75 VQScore, meaning its earnings per share is accelerating.
This stock has seen a gradual climb recently, but it's ready to break out even further. You can thank all the global trade hubbub for putting it at a discount.
But don't stop there – there are even better opportunities in the cannabis investing space…
These 3 Stocks Are the Key to 2019's Greatest Profits
The 2018 midterm election was a turning point for the cannabis industry.
We expect nothing short of historic profits by the end of the year.
But not all pot stocks will hand you life-changing wins. In fact, often the companies making headlines are least likely to see the biggest gains.
These three stocks, on the other hand, are flying under the radar… for now. Each of them could see exponential stock price acceleration at any moment, and if you get in before that happens, you could turn a token stake into a lifetime of wealth.
I don't know of any other sector providing anywhere near this level of growth now.
Follow Money Morning on Facebook and Twitter.
About Money Morning: Money Morning gives you access to a team of ten market experts with more than 250 years of combined investing experience – for free. Our experts – who have appeared on FOXBusiness, CNBC, NPR, and BloombergTV – deliver daily investing tips and stock picks, provide analysis with actions to take, and answer your biggest market questions. Our goal is to help our millions of e-newsletter subscribers and Moneymorning.com visitors become smarter, more confident investors.To get full access to all Money Morning content, click here.
Disclaimer: © 2019 Money Morning and Money Map Press. All Rights Reserved. Protected by copyright of the United States and international treaties. Any reproduction, copying, or redistribution (electronic or otherwise, including the world wide web), of content from this webpage, in whole or in part, is strictly prohibited without the express written permission of Money Morning. 16 W. Madison St. Baltimore, MD, 21201.