One of Wall Street's dirtiest tricks is how short-sellers can wage vicious public relations campaigns against a company in hopes of driving its share price down.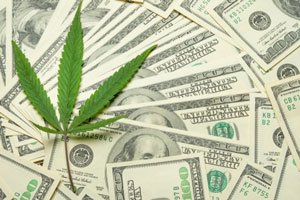 It's a perfectly legal practice, and short-sellers can go on TV and rail against companies without disclosing that they stand to make a substantial profit if the stock drops.
And that's exactly what's been happening to Aphria Inc. (NYSE: APHA).
But the short-sellers have got it all wrong, and that presents a huge opportunity for investors to scoop up shares before the market figures that out.
Here's what's going on with Aphria stock – and why it could potentially double your money…
How the Short-Selling Scheme Works
Bearish investors can sell shares of stock short, called short selling, by borrowing those shares from other investors and selling them in the open market. When it's time to return the borrowed shares, they hope to buy them back at a lower price. They then return the shares to the original owners and pocket the difference in price.
But if the share price goes up after they short the stock, they are on the hook for all of the losses, which are potentially infinite if the share price keeps rising.
That's why they don't want to leave things to chance.
SIT THIS ONE OUT and you could miss an American economic revolution that could send three little pot stocks soaring up to 1,000%. Click here to see why…
Prominent short sellers can be found writing and talking about how the company has all sorts of problems. They hope to convince other investors to sell their stock and drive down the price for them.
And the worst part is that they can criticize the company without disclosing that they sold its stock short or even proving that their "information" is actually correct.
But savvy traders can make a quick gain by going against the short sellers, especially if the company is strong. Recall the battle for Herbalife Ltd. (NYSE: HLF) in 2014. HLF stock took a beating when hedge fund manager Bill Ackman shorted the stock and waged a public war against it. He ended up getting demolished and abandoning his position.
Herbalife is now up 60% on the year. Revenue grew at a rate of 7.7%, EBITA at a rate of 4%, and free cash flow at a rate of 1.2%. It holds $1.28 billion in cash and $2.17 billion in debt on its balance sheet.
In other words, Ackman's argument against the firm couldn't stand up to their solid financials and business growth.
Real earnings results beat a famous investor criticizing the company on TV.
And that's exactly what's happening with Aphria right now.
Money Morning Director of Cannabis Investing Research Greg Miller calls it a beautifully wrapped-up December buying opportunity.
Why Aphria will Destroy the Short Sellers
The short-sellers' talking points against Aphria allege, among other things, that Aphria engaged in some inappropriate transactions in Jamaica, Colombia, and Argentina.
Unfortunately, the company lost the public relations battle by not quashing those allegations immediately. But since the short sellers had very little substance on which to rely, the current price dip means that shares are cheap.
Aphria stock is down a massive 70% since peaking on Sept. 12. That includes the 23% single-day plunge on Dec. 3 after Quintessential Capital Management and Hindenburg Research issued a research report about the company titled "The Black Hole." They were particularly distraught about the company's recent $212.3 million (C$283.5 million) Latin American acquisitions appearing to be largely worthless, including an abandoned building in Jamaica and overvalued price paid for a company in Argentina.
Aphria did not fully respond until the next day, after its stock was halted for trading.
However, Aphria was firm that it "unequivocally stands behind" its acquisitions. And management put their money where their mouths were by buying more than $3.1 million worth of Aphria shares.
Such heavy buying by insiders who know the intimate details of the company – and stand to gain the most if the stock bounces back – says a lot about the company's prospects for growth.
Miller says the allegations made by the short artists are "less than meets the eye – a lot less." The claims they made centered on negative cash flow, quality problems, and affiliate transactions at inflated prices. But they don't hold water.
Negative cash flow is a common condition among start-ups and cannabis companies in general, so that is not much of a tell. These companies are still in the investing phase of their life cycles and cannot be expected to cover all expenses so soon.
As for the quality of its product, Aphria's business model centers on catering to a mass market instead of high-end buyers. Compare its strategy to brewer Anheuser-Busch InBev S.A. (NYSE: BUD). It makes a fortune selling to the masses and leaving the designer beers to others.
That's simply not a reason to avoid a company.
But their last argument is the worst of all, and it's the one that could make us a quick 100% gain when it implodes…
The Final Straw for the Bears
The final allegation is that the company pays too much for assets so as to line the pockets of some of its insiders.
That's a damning allegation. If only it were true.
Aphria CEO Vic Neufeld sits on the board of SOL Global Holdings, one of the companies that sold assets to Aphria, the centerpiece of the allegation. But not only is cross-pollination of board members very common in the corporate world, but Neufeld held less than 2% of SOL.
That would not be much of a profit for taking the risk of such impropriety, so without actual evidence, the allegation doesn't hold water.
Even better, in connection with the transactions, Aphria obtained an independent appraisal and a fairness opinion from Clarus Securities Inc., one of the most important investment banks involved in the cannabis industry in Canada.
We think the short sellers are blowing hot air to make a quick profit. And that's an opportunity for smart investors to swoop in and buy a solid company at a rock-bottom price.
Aphria is among the top five cannabis companies in Canada, which is to say Aphria is among the most important marijuana operations on Earth.
With Aphria stock trading near 15-month lows and a history of big price swings, shares are positioned well for the next leg up.
The company still has Health Canada's all-important seal of approval, and its distribution agreements throughout the land are still intact. Indeed, Canada as a whole is severely undersupplied with cannabis nearly two months after full legalization took place.
And as mentioned, company insiders are putting up their own money to buy more company shares.
All of this makes a compelling case for the company and the stock.
And if the stock bounces back to its November high – not even its 2018 high – investors could double their money.
But don't stop there. Canadian cannabis legalization opened the floodgates for even more opportunities…
These 3 Stocks Are the Key to 2018's Greatest Profits
The 2018 midterm election was a turning point for the cannabis industry.
We expect nothing short of historic profits by the end of the year.
But not all pot stocks will hand you life-changing wins. In fact, often the companies making headlines are least likely to see the biggest gains.
These three stocks, on the other hand, are flying under the radar… for now. Each of them could see exponential stock price acceleration at any moment, and if you get in before that happens, you could turn a token stake into a lifetime of wealth.
I don't know of any other sector providing anywhere near this level of growth now.
Follow Money Morning on Facebook, Twitter, and LinkedIn.
About Money Morning: Money Morning gives you access to a team of ten market experts with more than 250 years of combined investing experience – for free. Our experts – who have appeared on FOXBusiness, CNBC, NPR, and BloombergTV – deliver daily investing tips and stock picks, provide analysis with actions to take, and answer your biggest market questions. Our goal is to help our millions of e-newsletter subscribers and Moneymorning.com visitors become smarter, more confident investors.To get full access to all Money Morning content, click here.
Disclaimer: © 2018 Money Morning and Money Map Press. All Rights Reserved. Protected by copyright of the United States and international treaties. Any reproduction, copying, or redistribution (electronic or otherwise, including the world wide web), of content from this webpage, in whole or in part, is strictly prohibited without the express written permission of Money Morning. 16 W. Madison St. Baltimore, MD, 21201.